In the need of taking my mind off the virus ™ , and limiting my news intake, recently I've been surfing a lot more web shops than usually and it got me thinking about limited edition special collaborations. The collaboration of brands and artists or creatives of any kind is not new, I know. But it is a phenomenon worth shining a light on, now and then. It is of course a great way for a brand to inject new vitality and increase their appeal and to latch onto the invited parties image. And vice versa, a wonderful opportunity for an up and coming artist to present themselves to the world, or for the established artist to reach audiences outside of the gallery. And not to mention a good way for companies to create content in a on-line climate which demands new and inspiring all.the.time. It is also a cunning way to tease the audiences appetites for consumption; present them with a limited edition, nearly impossible to get you hands on, collaboration collection. It might even be that the limited edition object, or clothing item, some day´ll be worth a lot of money… Get it before it's gone! That said. Sometimes it is as if these collab products have a way of communicating things that "normal" brand collections just don't seem to have. They can say something about the state of the world or even, as with Ablohs "Sculpture" bag for Ikea, be a clever way of presenting aesthetic theories to the mainstream public. Discussions about what art can be can take place outside of the white box museum. And that is maybe the key to the collab, that they have the capacity to introduce values and stories to a brand that is otherwise difficult to achieve. Cynical as it may be, here are my favorite collaborations at the moment. And yes, it doesn't matter that I can see through the consumer-capitalist motives behind them. I still want them and they are none the less the outcome of wonderfully talented creators worth acknowledging.
But before we dive into more current collaboration, we have to take a moment to appreciate the very early match made in heaven that was Elsa Schiaparellis 1937 dress with a lobster painted by Salvador Dalí. So darn gorgeous.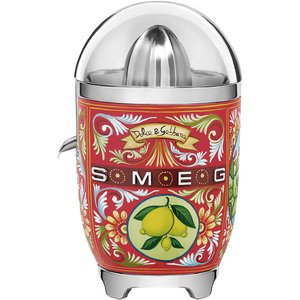 I´m not entirely sure about the reasoning behind the teaming up of kitchen company Smeg and Dolce & Gabbana but I don't really care, I just want that juicer on my kitchen counter.
Clare V for Anthropologie. Inspired by Picassos stay in Cannes.
Easter eggs by artist Siri Carlén for Svenskt Tenn.
Design company Asplund co-created a collection of carpets with the Hilma af Klint foundation in 2018 and again in late 2019, using af Klints extra-ordinary images from the early 1900s. Although who would even think of stepping on one of them I cannot imagine. More art than home decor, no?